The Biden White House keeps adding to a long list of often-plodding policy reviews that cover everything from China to Afghanistan to environmental regulation, adding one that revives the Obama administration's goal of closing the U.S. military prison at Guantanamo Bay.
From a president who frequently cites his long experience in government and foreign affairs, the result is concern among allies that he is dithering in his early weeks in office while critics see him pandering to the Left.
Reviews can be used to manufacture a sense of action where there is none, said Danielle Pletka, a senior fellow at the right-leaning American Enterprise Institute, adding: "But it also gets your constituency off your back. It is an appearance of action without doing anything — and it takes the pressure off to be able to be either to go slow or ultimately to change things."
The long slate of internal studies meant to set the administration's major policy stances raises questions after the 46th president repeatedly boasted during the transition between his election and inauguration about his nearly five decades of Washington experience and that of his nominees and appointees.
On Friday, the White House National Security Council announced the latest review.
"We are undertaking an NSC process to assess the current state of play that the Biden administration has inherited from the previous administration, in line with our broader goal of closing Guantanamo," said spokeswoman Emily Horne.
Some 40 prisoners are still detained without charge at the facility. Then-President Barack Obama never made good on a promise to close the 9/11-era prison, as congressional opposition and questions about where to transfer prisoners thwarted his campaign promise.
"Guantanamo is one of these issues where it sounds simple to be black-and-white, but as soon as you start to govern, the difficulties become readily apparent," said James Carafano, of the Heritage Foundation. "If Guantanamo had been easy to close, Obama would have closed it."
Instead, he added, it looked like a sop to the radical elements of the Biden coalition who are clamoring for action.
"It comes off as another thing for the leftist punch list," he said. "If we can't do something, let's just pretend we're doing something."
During the campaign, Biden condemned then-President Donald Trump's trade war with China and said he would ditch his predecessor's tariffs — those questions are now under review by his administration. This week, the new commander in chief also unveiled a Pentagon task force to examine its stance toward China.
The White House is also reviewing a U.S. deal with the Taliban while it considers troop numbers in Afghanistan. Relations with Russia, North Korea, and Saudi Arabia? That's right: all are being revisited.
On top of all that, Biden has tasked Defense Secretary Lloyd Austin with leading a "global posture review" of American armed forces.
Officials say it is early days and that work has been done building a position of strength at home, the better to project American power abroad.
Though Biden made fast work of rejoining the Paris Climate Accords and the World Health Organization, anyone hoping for a blanket reversal of decisions taken in the Trump years will be disappointed.
Writing in an op-ed, international affairs commentator Fareed Zakaria said Biden's foreign policy had struck a "diffident" note and blamed the perennial fear of Democratic presidents that they will be seen as soft on foreign policy.
"Nothing has been reversed. Again, it's all under 'review,'" he wrote. "One would have thought Biden and his advisers had already spent the past four years carefully reviewing Trump's policies, since they publicly declared them to be disastrous."
The reviews are cited frequently during White House briefings. On Thursday, a journalist asked press secretary Jen Psaki whether Biden was preparing action against Russia for the detention of opposition leader Alexei Navalny.
"Of course, the president reserves the right to respond in any manner and any timeline of his choosing," replied Psaki. "But that review is ongoing and has not concluded yet."
(Washington Examiner)
Mexican-Made Golden Trump Statue Turns Heads At CPAC
A golden statue of former President Donald Trump that caused a stir at the annual US gathering of conservatives was made in Mexico,  a country he frequently 'demonized.'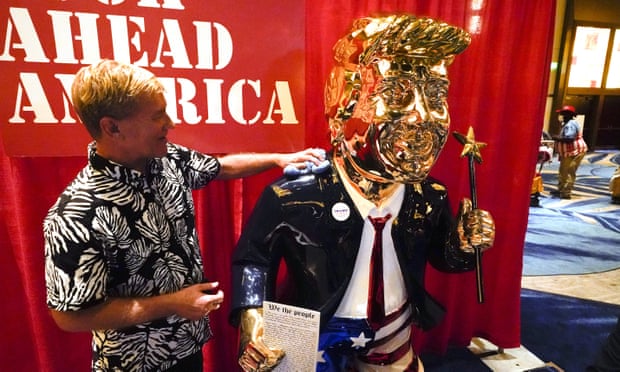 The statue is large, complete with a golden head and Trump's trademark suit jacket with a white shirt and red tie. 
Video and pictures of the tribute being wheeled through the Conservative Political Action Conference (CPAC) in Orlando, Florida, went viral on Friday.
The conference is seen as a vital gathering of the Republican right, and this year has become a symbol of Trump's continued grip on the party, despite losing the 2020 presidential election. 
The artist behind the massive statue, Tommy Zegan, has revealed that it was ironically made in Mexico, a country that has been the target of Trump's policies over the years. 
"It was made in Mexico," Zegan told Politico's Playbook newsletter.
Zegan spent over six months crafting the 200lb fiberglass statue with the help of three men in Rosarito, where he then transported it to Tampa, Florida, where it was painted in chrome, then hauled it from there to CPAC.
'It was sabotage': McConnell ally tells CNN that Trump destroyed GOP's Senate majority
The feud between former President Donald Trump and Senate minority leader Mitch McConnell (R-KY) shows no signs of slowing down, and a McConnell ally on Thursday said the former president was to blame for costing Republicans the Senate.
Scott Jennings, a CNN political commentator who has also worked on McConnell's Senate campaigns, told the network that it's clear that Trump was to blame for his party's losses in the two Georgia Senate runoff elections.
"It's pretty clear what happened: a whole bunch of Trump people didn't turn out because, shockingly, they were listening to Donald Trump when he told them their votes didn't count anymore," Jennings said. "It was a sabotage and it was obvious to anybody who has even a little bit of political professional expertise."
Jennings went on to say that the Republican Party cannot win if it simply becomes a Donald Trump personality cult.
"It's pretty clear that Donald Trump overall was a net drag on the Republicans because we don't control anything now," he said. "He lost the White House, and that was before January the 6th. And so what I think the party has to do is find a way to hold the coalition together."
(rawstory)
Hillary Clinton effortlessly mocked Trump after his Atlantic City hotel was demolished
Much like his presidency, Donald Trump's real estate empire is now starting to crumble around him as evident by the demolition of his former hotel and casino in New Jersey, known as Trump Plaza on Wednesday.
The once luxury 32-story complex situated on the Atlantic City boardwalk had fallen into disrepair and ruin after being closed to the public in 2014 after suffering a downturn in profits at the turn of the century combined with Trump filing for bankruptcy.
The implosion of the building was watched by thousands online and there was much schadenfreude going around as another piece of Trump's image came tumbling down.
It was quite the moment and we're just sorry that Trump isn't allowed on Twitter anymore so we could have gotten his thoughts on the destruction of his old casino.
That being said we do still have Hillary Clinton, who in many ways, isn't shy of sharing her opinions on social media, especially when it comes to her former presidential election opponent.
Quote retweeting a video of the implosion, Clinton added a simple wave emoji in response proving once again that she is the undisputed champion of succinct Trump trolling.
In January, she mocked the former president after he was permanently suspended from Twitter by using a call back to a 2016 tweet of hers where she told him to 'delete your account.'
In regards to his demolished hotel, Atlantic City Council President George Tibbit called it an "end of an era" for the boardwalk which is now going to go under redevelopment.
(Independent)