Deontay Wilder finally broke his silence after losing to Tyson Fury, and he dropped a bombshell supporting conspiracy theories about how the match was won. Deontay Wilder exposed Tyson Fury cheated by putting something in his glove, and scratching flesh out his ear. Deontay Wilder also claims Tyson Fury left a dent in his face from the hardness of whatever the object was in his glove.
After their rematch we wrote an article about the conspiracy theory of Tyson Fury cheating, but we never thought Deontay Wilder would come out attempting to confirm it. Deontay Wilder truly believes Tyson Fury cheated by putting something hard in his gloves. Take a look.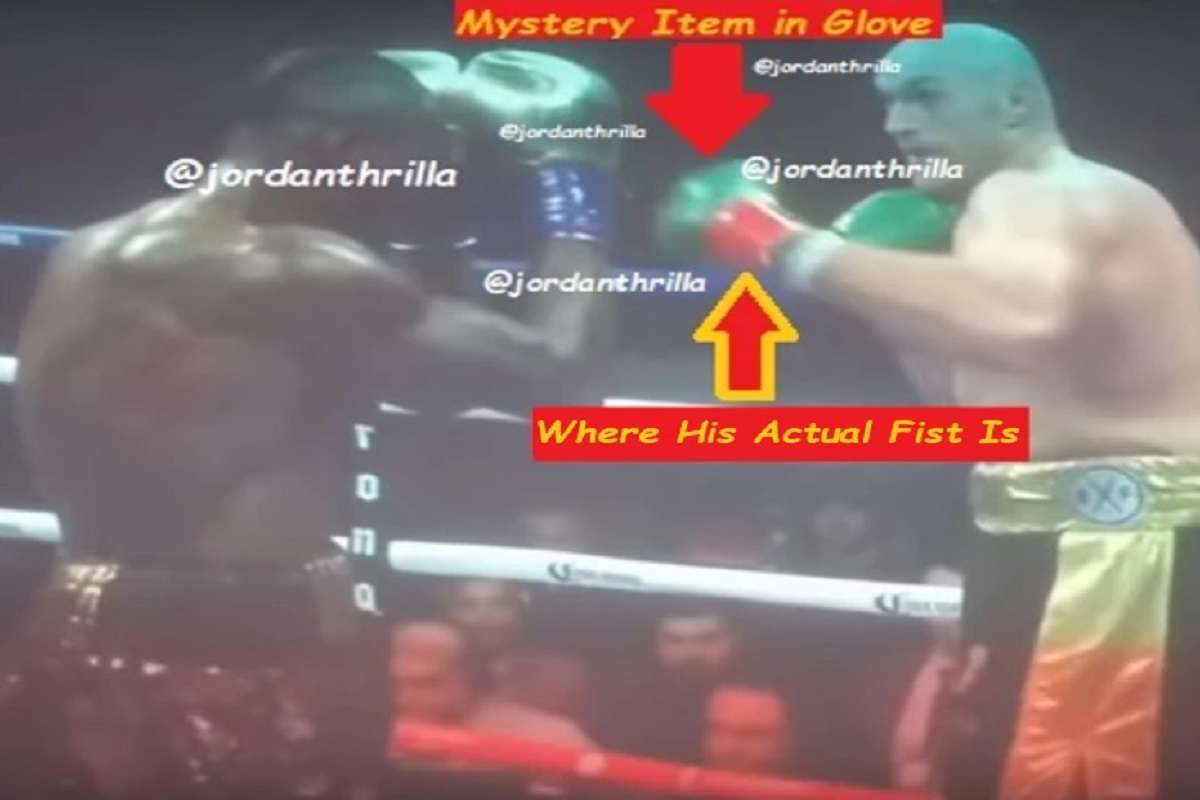 As we pointed in our article about Tyson Fury cheating, Deontay Wilder is focusing on the unnatural position of his gloves. He also brings new details to light about Tyson Fury's trainer adjusting his gloves during their boxing match to make sure whatever was in his gloves was hitting Deontay Wilder. This would explain why Tyson Fury who was never a power punching, looked like a power puncher on that night.
You could say Deontay Wilder is making excuses to cope with the loss, but how you can explain that dent in his face? How can you explain Tyson Fury's gloves flopping around like sandbags?
To end his video Deontay Wilder sent a scary warning to Tyson Fury, and took more shots at his trainer who stopped the fight. Deontay Wilder let Tyson Fury know payback is coming for his alleged cheating antics, and again called his trainer who may have save his life "disloyal".
If the Tyson Fury vs Deontay Wilder match ever happens, it looks like Wilder is really going try and end Fury's career. The look in Deontay Wilder's eyes is the look of someone ready to try and kill inside the boxing ring.
Author: JordanThrilla
Keyshia Cole's Sister, Elite Noel, Says Her Fans Got Her "Thinkin' She Need To Change Her New Appearance To Make A Hit"
Earlier this week, singer Keyshia Cole made a social media post about opening her gap and asked viewers their thoughts; well, her sister Elite Noel decided to weigh in on the issue.
Apparently, when asked if bringing Keyshia's gap back would help her career, Elite said she laughed. The whole thing is what she calls "insane," and she wants someone to tell her sister to leave her gap closed (it ain't that deep).
She went on her IG page to say, all Keyshia has to do is "open up her heart!"
"She can bring the red hair back, she can sing all the old love/hate songs that was introduced to us in the beginning….it ain't gone work! She gotta get back to the Original Plan with the people she started wit….and I ain't even talking about me, apologize to the band members u sh***ed on, the assistants, the nannies, the background singers, the dancers, all of the family members u sh***ed on! God gone take u back to the top, cause the heart will be free at that point……! And most importantly….your Mother (Frankie and Yvonne) deserves apologies and respect as well! Oh and bring MANNY Back….major (key)"
Elite also made two other story posts in which she mentioned that you "cannot blackball your family out of spite and think things are gonna go right for you!" She said God doesn't like that type of energy and said, "it's showing that HE'S NOT PLEASED."
But she didn't just call out her sister; she also turned to her fans, saying that they are the "worst" because they are "so worried about us and my mom being embarrassing." Then claimed they are the reason Keyshia is self-destructing.
"She's crying out for help left to right….keyshia different, always been different, never had to try to fit in or do the most to get noticed again! Naturally beautiful, voice naturally unique….y'all got her thinkin she need to change her new appearance back to make a HIT……lol that's ludicrous!!!!!"
Thoughts?
Johnson & Johnson's Single-Dose Vaccine Approved By FDA For Emergency Use
The Food and Drug Administration has finally approved Johnson & Johnson's COVID-19 vaccine for emergency use, making it the third available vaccine approved to fight against the pandemic.
According to CNBC News, the FDA's authorization came on Friday and will kickstart the federal government's plan to send out nearly 4 million of its vaccine doses across the nation to pharmacies and community health centers next week.
The company's vaccine is different from the other two approved companies, Pfizer and Moderna, whose vaccines require two doses, and the vaccines can be stored for a longer period of time in refrigerator temperatures.
J&J's vaccine "makes it operationally easier in lots of contexts," Dr. Nancy Messonnier, director of the CDC's National Center for Immunization and Respiratory Diseases, told the Journal of the American Medical Association during an informative briefing on Friday. "I expect lots of considerations state health departments are having around these vaccines is more about the ease of use of the J&J vaccine and how it might be better suited for some populations."
The company says first-round doses will be limited, but it expects to distribute 20 million doses by the end of next month, a plan confirmed by its VP of U.S. medical affairs, Dr. Richard Nettles.
The company made a deal with the U.S. government to supply 100 million doses of its vaccine by the end of June. U.S. officials are working with J&J to increase its supply as quickly as possible, CNBC reported.
Officials are concerned about new emerging variants of the virus, focusing on the B.1.351 strain, which has been shown to reduce vaccines' effectiveness.
The company submitted its Covid vaccine data to the FDA earlier this month. Apparently, the vaccine's level of protection varies by region, with the shot demonstrating 66% effectiveness overall. It proved 72% in the U.S., 66% in Latin America, and 57% in South Africa, where the B.1.351 variant is surging. However, FDA documents report the vaccine was 64% effective in South Africa after about a month.
LHHATL Star Couple Lil Scrappy And Bambi Expecting Third Child
Love and Hip Hop: Atlanta couple Lil Scrappy and Bambi are expecting baby number three!
Bambi posted a video to Instagram on Saturday dressed in a comfy-looking blue outfit. At first, she has her back to the camera, and then she flips her hair and turns to face the camera, baby bump on full display. 
The couple also shares a son, Breland, and a six-month-old daughter, Xylo. Scrappy also has a daughter, Emani, with fellow LHHATL Erica Dixon, who Bambi refers to as her "bonus child."
Congratulations to Scrappy and Bambi!