Religion is a very touchy subject at the moment as the Isreal-Hamas conflict in the Middle East sparks division around the world. Finesse2Tymes experienced some online heat for discussing the Muslim faith on social media.
Yesterday (November 6), Finesse2Tymes took to his Instagram Story to deliver a message about his potential future. The Memphis, Tennesse native posted, "After this album, I'm converting to Muslim🤲🏽."
Say Cheese TV shared Finesse's IG Story post which led to some commenters criticizing the "Back End" rapper for not properly referring to Islam as the religion. Others called on him to accept Jesus Christ as his savior.
##>
"Y'all always making fun and laughing when a person [is] trying to get [their] life together," Finesse2Tymes wrote in response to the backlash. "If [you're] struggling and wondering why, it's because [you] look down on everybody and [you're] still down yourself."
The 31-year-old Atlantic recording artist continued, "[You] don't get blessings having a sour heart, I'm graduating from the streets, I outgrew the old me, I'm seeking knowledge and wisdom more, financial literature, parenting skills, etc."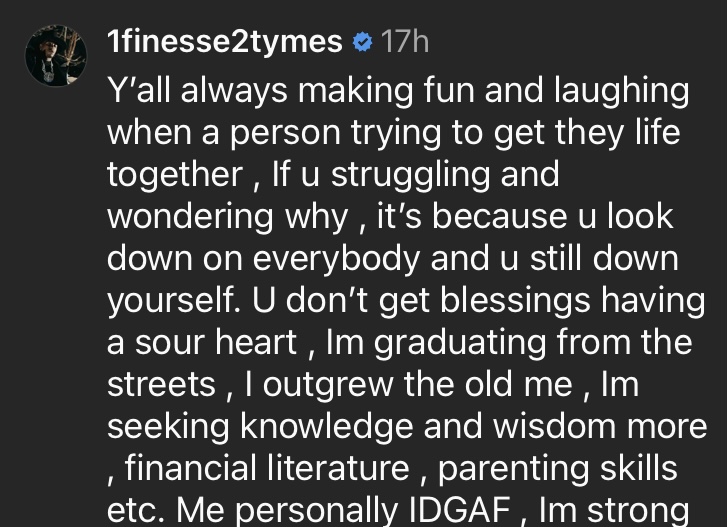 ##>
Finesse2Tymes then addressed the effect online critiques can have on someone's mental health. He also directly responded to anyone who complained about his use of the word "Muslim" and not "Islam" in his original post.
"Me, personally IDGAF, I'm strong mentally, but this message is for the ones who laugh at people who actually have problems, and come to the internet for help because no one else is helping them. Mental health awareness is real," he stated.
Finesse2Tymes concluded, "And converting to Islam, Muslim, it's all the same, but y'all look for any flaw to laugh at someone who's successful or doing more than you, I understand, god bless u people, inshallah 🤲🏽.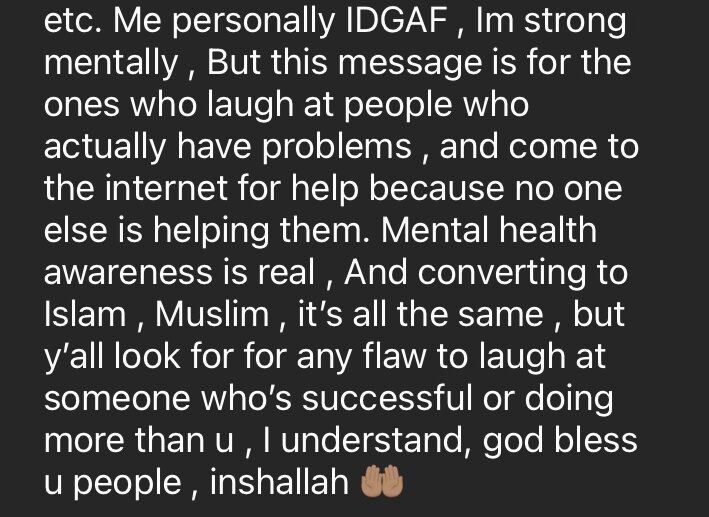 ##>