The feud between former President Donald Trump and Senate minority leader Mitch McConnell (R-KY) shows no signs of slowing down, and a McConnell ally on Thursday said the former president was to blame for costing Republicans the Senate.
Scott Jennings, a CNN political commentator who has also worked on McConnell's Senate campaigns, told the network that it's clear that Trump was to blame for his party's losses in the two Georgia Senate runoff elections.
"It's pretty clear what happened: a whole bunch of Trump people didn't turn out because, shockingly, they were listening to Donald Trump when he told them their votes didn't count anymore," Jennings said. "It was a sabotage and it was obvious to anybody who has even a little bit of political professional expertise."
Jennings went on to say that the Republican Party cannot win if it simply becomes a Donald Trump personality cult.
"It's pretty clear that Donald Trump overall was a net drag on the Republicans because we don't control anything now," he said. "He lost the White House, and that was before January the 6th. And so what I think the party has to do is find a way to hold the coalition together."
(rawstory)
Mexican-Made Golden Trump Statue Turns Heads At CPAC
A golden statue of former President Donald Trump that caused a stir at the annual US gathering of conservatives was made in Mexico,  a country he frequently 'demonized.'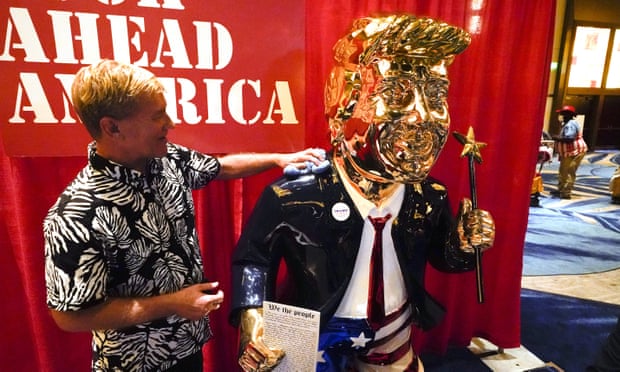 The statue is large, complete with a golden head and Trump's trademark suit jacket with a white shirt and red tie. 
Video and pictures of the tribute being wheeled through the Conservative Political Action Conference (CPAC) in Orlando, Florida, went viral on Friday.
The conference is seen as a vital gathering of the Republican right, and this year has become a symbol of Trump's continued grip on the party, despite losing the 2020 presidential election. 
The artist behind the massive statue, Tommy Zegan, has revealed that it was ironically made in Mexico, a country that has been the target of Trump's policies over the years. 
"It was made in Mexico," Zegan told Politico's Playbook newsletter.
Zegan spent over six months crafting the 200lb fiberglass statue with the help of three men in Rosarito, where he then transported it to Tampa, Florida, where it was painted in chrome, then hauled it from there to CPAC.
Hillary Clinton effortlessly mocked Trump after his Atlantic City hotel was demolished
Much like his presidency, Donald Trump's real estate empire is now starting to crumble around him as evident by the demolition of his former hotel and casino in New Jersey, known as Trump Plaza on Wednesday.
The once luxury 32-story complex situated on the Atlantic City boardwalk had fallen into disrepair and ruin after being closed to the public in 2014 after suffering a downturn in profits at the turn of the century combined with Trump filing for bankruptcy.
The implosion of the building was watched by thousands online and there was much schadenfreude going around as another piece of Trump's image came tumbling down.
It was quite the moment and we're just sorry that Trump isn't allowed on Twitter anymore so we could have gotten his thoughts on the destruction of his old casino.
That being said we do still have Hillary Clinton, who in many ways, isn't shy of sharing her opinions on social media, especially when it comes to her former presidential election opponent.
Quote retweeting a video of the implosion, Clinton added a simple wave emoji in response proving once again that she is the undisputed champion of succinct Trump trolling.
In January, she mocked the former president after he was permanently suspended from Twitter by using a call back to a 2016 tweet of hers where she told him to 'delete your account.'
In regards to his demolished hotel, Atlantic City Council President George Tibbit called it an "end of an era" for the boardwalk which is now going to go under redevelopment.
(Independent)
'Too Early to Say, Lots of Great Polls Out There': Trump Cagey on Whether He'll Run Again in 2024
In one of his first public appearances since leaving office, former president Donald Trump used a Newsmax interview to commemorate conservative radio host Rush Limbaugh, whose death was announced earlier, to weigh in on issues ranging from the Senate's failed attempt to convict him during his second impeachment trial to being kicked off Twitter.
Donald Trump was doggedly cagey on all questions pertaining to his political future as he appeared on the cable television network Newsmax on Wednesday evening.
Speaking publicly again after the Senate failed to convict him during his second impeachment trial, he nevertheless told host Greg Kelly that he was buoyed by strong polling figures of late, while emphasising it was too soon to announce whether he'll run for president again in 2024.
"As far as 24, too early to say, but I see a lot of great polls out there, that's for sure," said Trump.
The interview was intended to eulogise the late conservative radio host Rush Limbaugh, whose death from lung cancer was announced earlier that day, yet was used by the ex-president as an opportunity to weigh in on several issues, including his immediate political plans.
Trump claimed that he wanted to "be somewhat quiet" after exiting the White House, but insisted his poll numbers have remained strong after he was impeached.
​According to a new Gallup poll, among Republicans and Republican-leaning independents, just 10 per cent favoured convicting Trump to bar him from ever holding public office again, while 88 percent oppose the former president's conviction.
"Well we have tremendous support, I won't say yet, but we have tremendous support. I am looking at poll numbers that are through the roof. Only I could get impeached and my numbers go up. The numbers are very good and very high, they are higher than before the election," said the former president.
As Donald Trump left Washington, D.C. on the morning of President Joe Biden's inauguration as the 46th president of the United States on 20 January, he vowed to his supporters that "we will be back in some form."
Speculation has been rife regarding Trump's political ambitions, however strong support among Republicans shows he remains the GOP voters' top choice for a 2024 nominee.
According to the Politico-Morning Consult poll released on 16 February, 59 percent of GOP voters said Trump should play a "major role" in the Republican Party in the future, with 54 percent of respondents saying they would back the former president in a hypothetical 2024 Republican presidential primary. Only 17 percent believed that the former president should play no role at all in the Republican Party.
The poll also showed that the share of Republicans who said Trump is very or somewhat responsible for the Capitol riots on 6-7 January had dropped 14 points, to 27 per cent.
Additionally, 51 percent of voters said they disapproved of the Senate's acquittal of Trump, with 79 percent of Republican voters approving the Senate's acquittal of the ex-POTUS.
During the interview, the former president also availed himself of the opportunity to reiterate his claims that last year's election had been "stolen" from him, and criticised his successful rival in the 2020 bid for the White House – Joe Biden – over his recent statements regarding the COVID-19 vaccine.
The latter was an apparent reference to Biden's claims that they didn't have jabs when the Democrat entered office. Trump insisted Biden was "either not telling the truth, or he's mentally gone", adding that his administration was actually providing vaccines and that Biden had taken his first shot "long before" Inauguration Day.
​The former president also vented his frustration over being kicked off the Twitter social media platform in the wake of the 6 January Capitol riots.
"Twitter is not the same, I understand it has become very boring and millions of people are leaving it, it is not the same and I understand that. We are negotiating with other people and there is also the option of building your own site," said Trump, who is yet to find a new platform for his messaging.
(Sputnik)