NBA YoungBoy is accused of ordering two women to assault the mother of his son Arcola, in a vicious attack that took place while she was holding their young son. 
On Monday (November 6), Arcola took to social media alleging that the rapper had two women beat her up and pistol whip her. She claims the attack was so brutal that even her son's clothing was left covered in blood.   
"Watch who you have kids by," she wrote on X. "My son dad let his w##### yes w##### with an S cause it was 2 of them weak ass hoes. He gave them an order to get me lol you know b###### who never came from s### gone do it. My son was in my hands. His dad just sat back and watched smh." 
Arcola says NBA YoungBoy was "p#####" because she asked him to keep their son Kaell for another two weeks. "I just feel like if you ain't gone help me financially you gone help physically," she wrote.  
After the two weeks passed, she says YoungBoy told her she can now visit Kaell on weekends. "LMFAO them drugs got his mind gone," Arcola stated. "He then blocked me so I told him I'll be out there Wednesday but nah I booked my flight last night got a rental and drove to his house." 
She claims she got past YoungBoy's security to enter his house, trying to find their son. "I was calm and respectful I asked where is kaell like 30 times! I finally found him and his w##### was trying to take my son out of my hands smh I cannot make this up," she added.  
Arcola Claims The Attack Left Her Needing Five Stiches
Arcola also shared a graphic photo of her bloodstained face and another of her and her son, seemingly in the hospital.  
"I would be wrong if I pressed charges on yall for doing me like this with my baby in my hand," she captioned the photo. "But karma gone eat yall a#### up. I got my son back I'm happy that's all that matters fr. 5 stitches later. And her punk ass fist ain't do that shorty had sum." 
She said , "They kept trying to take kaell from me" adding that she "cried so hard I even screamed so loud like you'd thing I was mental. I was holding my baby sooooo tight I was never letting my son go to swing on you low life w#####. I came for my son and left with him." Read her tweets below.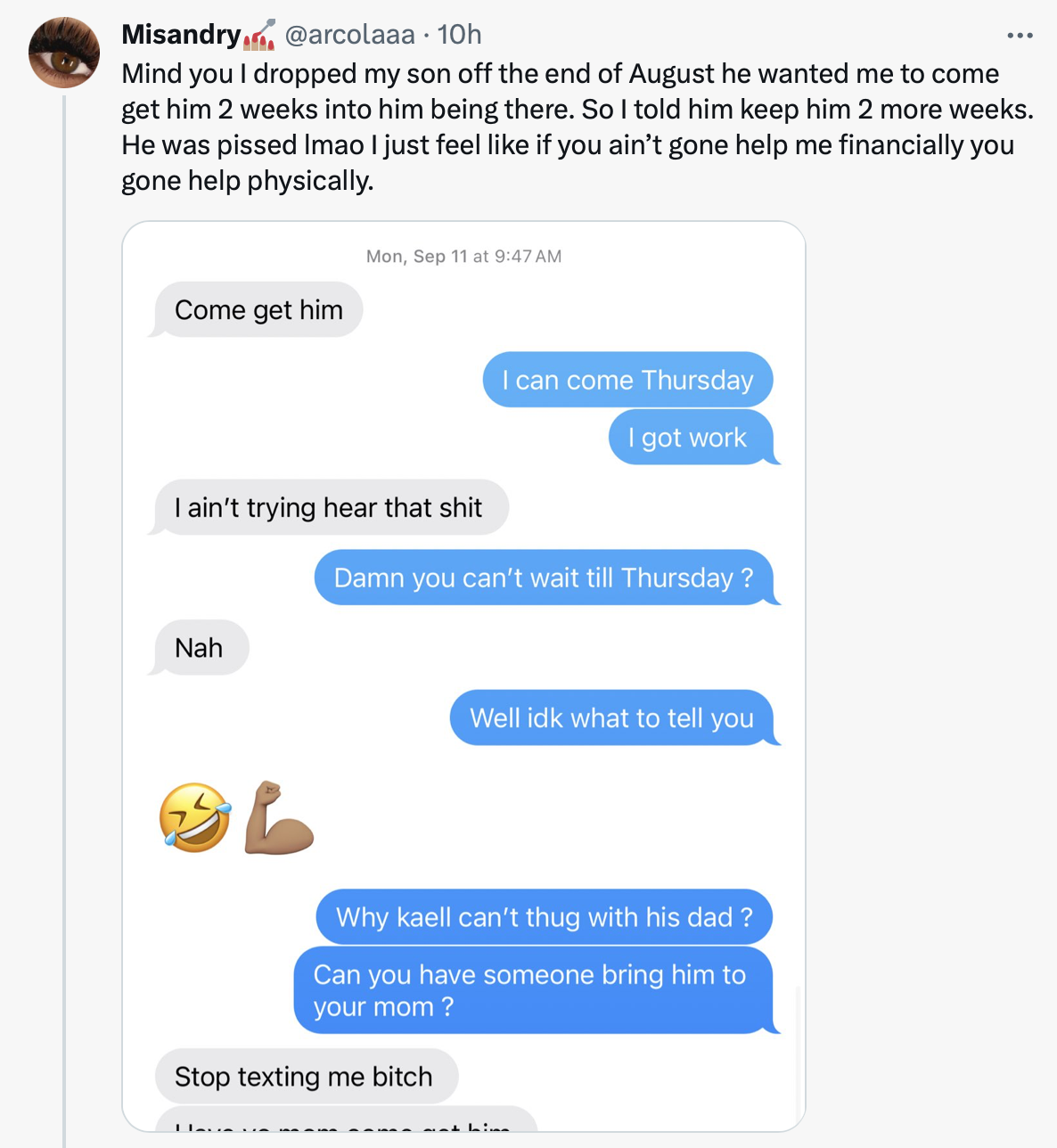 In a follow-up video, Arcola claims NBA YoungBoy sat back and watched the assault, even as she was hit with a gun. She said that the Baton Rouge, Louisiana native has "an entity in his body," calling him "evil" and "cursed," and vowed he will never see his son again. Watch the video below.  
Meanwhile, last week, AllHipHop.com exclusively reported NBA YoungBoy petitioned the court for adjustments to his house arrest terms. He cited a decline in mental health after almost two years of confinement to his Utah residence while awaiting trial.