North Carolina Republican leaders will meet on Monday to discuss Senator Richard Burr's vote to convict former U.S. President Donald Trump during his impeachment trial, after he was acquitted of a charge of inciting the deadly Capitol riot, a party spokesman said.
Burr, who has said he does not plan to seek reelection in 2022, was one of just seven out of the 50 Republican senators to vote to convict Trump for inciting his supporters' Jan. 6 attack on Congress, which left five people dead.
Trump's second Senate impeachment trial concluded on Saturday with a 57-43 vote in favor of convicting. The tally fell short of the two-thirds needed to secure conviction.
Tim Wigginton, the state party spokesman, said in an email the Republicans would release a statement after Monday night's meeting. Multiple media outlets said the officials would meet to decide whether to censure Burr.
"The President bears responsibility for these tragic events," Burr said last week in a statement. "The evidence is compelling that President Trump is guilty of inciting an insurrection."
North Carolina Republican Chairman Michael Whatley condemned Burr for voting against the former president last week, as a "shocking and disappointing" abdication of his duty to voters.
Louisiana's Republican Party voted on Saturday to censure Senator Bill Cassidy for voting to convict Trump. The party's leader in Pennsylvania, Lawrence Tabas, has publicly criticized Senator Pat Toomey for voting to convict.
The other four Republicans who voted to convict were Susan Collins, Lisa Murkowski, Mitt Romney and Ben Sasse.
The Republican Party faces internal conflict since Trump left office on Jan. 20, with many officials remaining publicly loyal to Trump and his devoted base of voters, while others including Senate Minority Leader Mitch McConnell have publicly criticized the former president, accusing him of sparking the Capitol violence.
(Metro.us)
Mexican-Made Golden Trump Statue Turns Heads At CPAC
A golden statue of former President Donald Trump that caused a stir at the annual US gathering of conservatives was made in Mexico,  a country he frequently 'demonized.'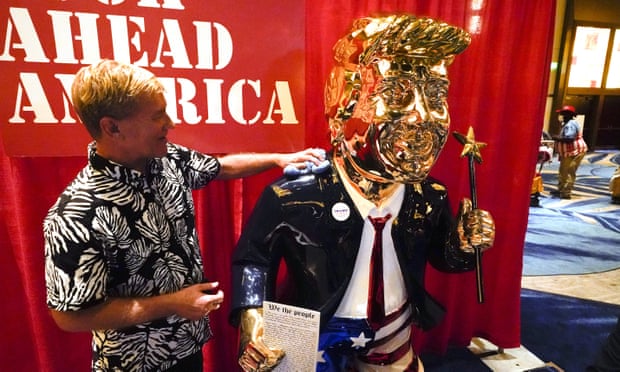 The statue is large, complete with a golden head and Trump's trademark suit jacket with a white shirt and red tie. 
Video and pictures of the tribute being wheeled through the Conservative Political Action Conference (CPAC) in Orlando, Florida, went viral on Friday.
The conference is seen as a vital gathering of the Republican right, and this year has become a symbol of Trump's continued grip on the party, despite losing the 2020 presidential election. 
The artist behind the massive statue, Tommy Zegan, has revealed that it was ironically made in Mexico, a country that has been the target of Trump's policies over the years. 
"It was made in Mexico," Zegan told Politico's Playbook newsletter.
Zegan spent over six months crafting the 200lb fiberglass statue with the help of three men in Rosarito, where he then transported it to Tampa, Florida, where it was painted in chrome, then hauled it from there to CPAC.
'It was sabotage': McConnell ally tells CNN that Trump destroyed GOP's Senate majority
The feud between former President Donald Trump and Senate minority leader Mitch McConnell (R-KY) shows no signs of slowing down, and a McConnell ally on Thursday said the former president was to blame for costing Republicans the Senate.
Scott Jennings, a CNN political commentator who has also worked on McConnell's Senate campaigns, told the network that it's clear that Trump was to blame for his party's losses in the two Georgia Senate runoff elections.
"It's pretty clear what happened: a whole bunch of Trump people didn't turn out because, shockingly, they were listening to Donald Trump when he told them their votes didn't count anymore," Jennings said. "It was a sabotage and it was obvious to anybody who has even a little bit of political professional expertise."
Jennings went on to say that the Republican Party cannot win if it simply becomes a Donald Trump personality cult.
"It's pretty clear that Donald Trump overall was a net drag on the Republicans because we don't control anything now," he said. "He lost the White House, and that was before January the 6th. And so what I think the party has to do is find a way to hold the coalition together."
(rawstory)
Hillary Clinton effortlessly mocked Trump after his Atlantic City hotel was demolished
Much like his presidency, Donald Trump's real estate empire is now starting to crumble around him as evident by the demolition of his former hotel and casino in New Jersey, known as Trump Plaza on Wednesday.
The once luxury 32-story complex situated on the Atlantic City boardwalk had fallen into disrepair and ruin after being closed to the public in 2014 after suffering a downturn in profits at the turn of the century combined with Trump filing for bankruptcy.
The implosion of the building was watched by thousands online and there was much schadenfreude going around as another piece of Trump's image came tumbling down.
It was quite the moment and we're just sorry that Trump isn't allowed on Twitter anymore so we could have gotten his thoughts on the destruction of his old casino.
That being said we do still have Hillary Clinton, who in many ways, isn't shy of sharing her opinions on social media, especially when it comes to her former presidential election opponent.
Quote retweeting a video of the implosion, Clinton added a simple wave emoji in response proving once again that she is the undisputed champion of succinct Trump trolling.
In January, she mocked the former president after he was permanently suspended from Twitter by using a call back to a 2016 tweet of hers where she told him to 'delete your account.'
In regards to his demolished hotel, Atlantic City Council President George Tibbit called it an "end of an era" for the boardwalk which is now going to go under redevelopment.
(Independent)